PR: Prior to the Velda: Girl Detective comic book, you had written several novels and short stories starring the character. Can you tell us a bit about Velda's creation? Did you always have a comic book in mind for the character?
RM: When my wife and I were in Mexico City working on Dune, we discovered that the American Embassy had a used book store it ran as a charity. It consisted largely of thousands of vintage paperbacks from the 40s and 50s… and since they were mostly bought, read and redonated directly back to the store the books were virtually mint. They were about ten cents each and I left with a couple of cartons. Most of the books were selected because I liked the cover art. And those tended toward being mostly the hard-boiled private eye novels. Of course, once I had these, I had to read them. I had never been exposed to the genre before and fell in love with it. It did not take long for me to notice that except for Honey West there were no female equivalents of Mike Hammer, Phillip Marlowe or Sam Spade.
I figured it was time to fix that.
The style of the novel and later short stories was very much influenced by all of the paperbacks I'd read. Especially so by the novels written by Richard Prather and Robert Leslie Bellem, which were not only great reads with great central characters (Shell Scott in the first and Dan Turner in the latter) but were told with tongue very much in cheek, too.
(Some years later I was very pleased to discover that Prather enjoyed the Velda novel and sent along some very nice compliments about it and the character.)
At first, Velda was a standalone novel. While the publisher and I were thinking of ways to promote it, it occurred to me that a webpage would be a good idea (the original page, by the way, no longer exists). Since the book is told in the first person, I thought it would be fun to take a hint from the Baker Street Irregulars and work from the assumption that Velda was a real person and that Velda was a true story. With that in mind, I wondered what sort of spin-offs might have come about in the 1950s? A crime comic, of course! So, for the website, I created a 4-page story.
That was fun! So I did an entire comic book. That was even more fun! There were eventually 8 or 9 of the things.

PR: Are you parodying any specific characters or comics with Velda, or is the book a parody of the broader golden age comic book and pulp fiction landscape?
RM: It's really, if anything, a tip of the fedora to the really cheesy crime comics of the 50s, especially those by Lev Gleason or Charles Biro.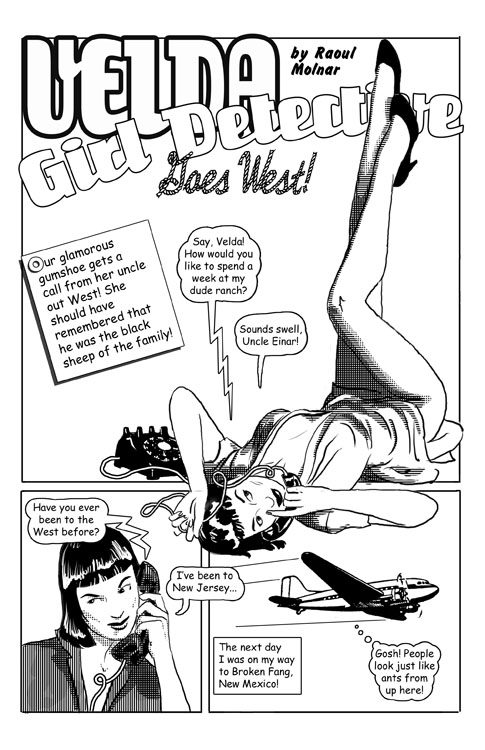 PR: You put an astounding amount of effort into inserting Velda into the golden age comic book continuum. Though Velda is undoubtedly the star of the book, she's only one part of it. Neolithica is a great twist on the jungle girl genre, and may be my favorite character. Was she conceived alongside Velda?
RM: I needed some side characters for the comic books. Hawkshaw Hawk: Bird Detective was one. Neolithica was the other. I have no idea where she came from. But I'm glad you like her!

PR: What was your artistic process like for the book? Did you draw it digitally?
RM: They are all drawn digitally in Photoshop, though occasionally there have been elements drawn in traditional pen and ink, scanned and inserted. I have a huge library of books, vintage magazines, etc. — even fashion magazines and pattern books from the 50s — shelves full of stuff — here that I draw upon for backgrounds, props, etc. To emulate Craftint shading patterns I created several full sheets of dots and lines at various angles. I literally "painted" those onto the main artwork using transparent layers so I could do cross-hatching. I think this style of shading helps the vintage look.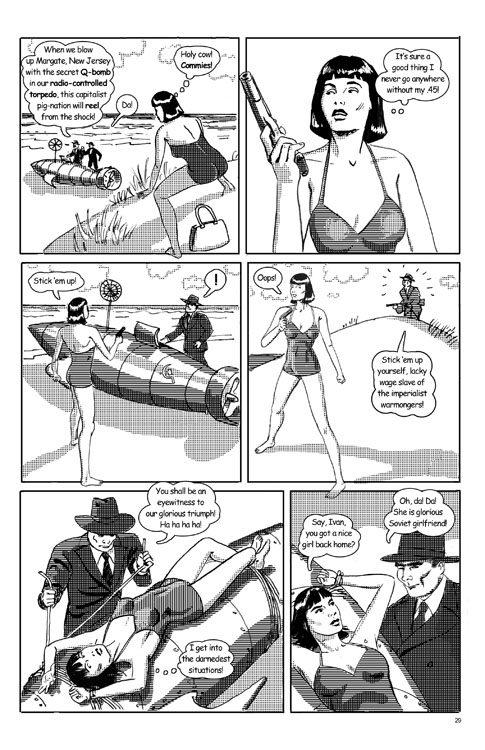 PR: How would you rank your enjoyment of drawing comic books compared to your illustrative work, like book covers and concept art?
RM: What it's done is to make me appreciate real comic book artists. This stuff is hard.

PR: On that note, you've covered a lot of ground with Velda, having produced audio shows, books, stage productions, and comics with the character. Do you have a favorite medium for storytelling?
RM: I've enjoyed writing the Velda short stories most.

PR: Do you have a favorite Velda story?
RM: That's a tough one, so I might let that ride. I did, though, recently write the first new Velda short story in several years. In "E-I-E-I-Oh Velda!" she has to spend a weekend in the country on a cousin's farm while solving a missing person case in the nearby town.

PR: Any chance we'll see Velda again?
RM: You bet! I have even been thinking about doing another comic book. And here's the latest news: All of the Velda material is now in the hands of an agent on the west coast who specializes in theatrical properties.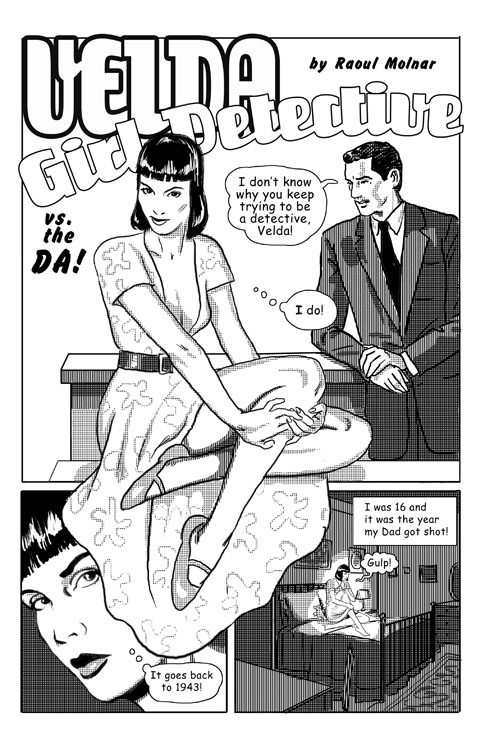 It did not take long for me to notice that except for Honey West there were no female equivalents of Mike Hammer, Phillip Marlowe or Sam Spade.

I figured it was time to fix that.
You can see more of Miller's work here, and can purchase the Velda: Girl Detective comic books from Indy Planet and Amazon. The original Velda novel is also set to be re-released in a new edition later this year.